Lang's Critical Veterans Bill Passes Senate
MN Senate Republican Caucus
Veterans' bill funds re-enlistment bonuses, completion of Veterans' Homes, housing options, and service bonuses
Posted: May 5, 2022
Read this story on the MNSRC website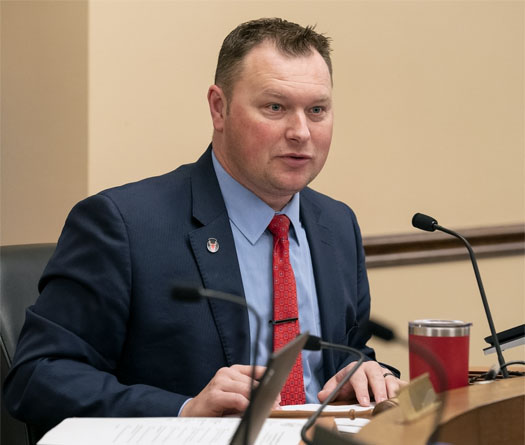 With unanimous support, the Minnesota Senate today passed legislation that makes critical investments into Veteran services across the state. This bill includes provisions that provide post-service resources, expand housing options, and fund enlistment and re-enlistment bonuses. The sole focus of this bill is to meet the needs of Veterans across Minnesota.
"I'm very happy we were able to quickly find bipartisan agreement on this important bill to support our veterans and their families," Senate Majority Leader Jeremy Miller said. "Every veteran has my heartfelt and sincere appreciation for their service and sacrifice."
Notably, this bill includes funding for upgrades and completion of the three new veterans homes across the state. Last year, homes in Bemidji, Preston, and Montevideo secured federal funding necessary to complete construction. Funding in this bill serves as the final capstone to make these homes operational by providing upgrades and improvements to strengthen the structures, and medical equipment and internal fixtures needed to make the homes operational.
To compete with the modern workforce, the bill also provides necessary funding for an enlistment and re-enlistment bonus program, which will serve as an incentive for retaining and recruiting servicemembers.
"This bill supports all our brave men and women and their families that have sacrificed so much to serve our country and state, and today's legislation addresses their needs," said Senator Andrew Lang (R-Olivia), Chair of the Veterans and Military Affairs Finance and Policy Committee. "We did the important work of securing federal funds to get three new veterans homes completed, and now it's time to step up and make sure those homes are built to last so that Veterans may receive the best care possible in their post-service years. We want all Veterans to have expanded access to housing options, which is why today's bill also incentivizes landlords to rent to Veterans and funds the important work of combatting Veteran homelessness."
The bill includes language to honor the historical tradition of providing bonuses to services members that served during global conflicts. With the end of the Global War on Terror last year, the bill allocates $24 million for post-war bonuses to Minnesota Veterans that served after September 11, 2001.
"Minnesota has a time-honored tradition of providing post-service bonuses to the Veterans that served in major conflicts. By providing these bonuses, we are thanking those that stepped up to fight for freedom. No amount of financial compensation will be thanks enough for all they did during these wars and conflicts, but including these bonuses in this bill is a start," said Lang.